Pull out the tinsel, rig up the lights, it's time to decorate.
Forget about your own house. You can get to that in December.
Your online store needs some festive love and affection.
Whenever you walk into a grocery store, your local mall or even your favourite cafe – you're overwhelmed with those Christmas feels.
Carols, baubles, wreathes and trees. Santas, reindeers, elves and candy canes.
You can't help but be drawn in to the Christmas spirit.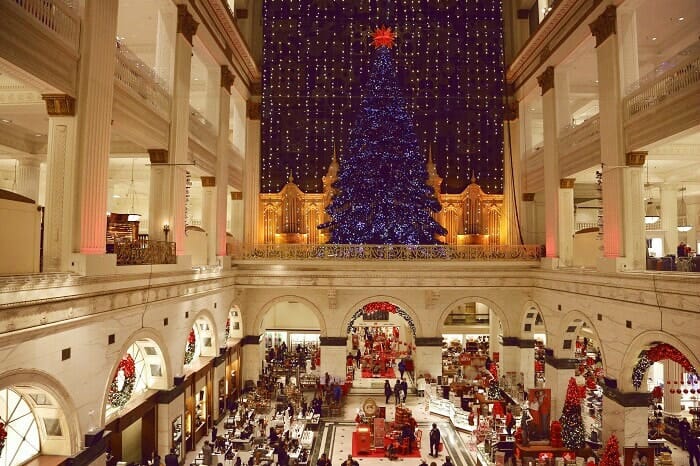 It puts you in a great mood. A buying mood. The spirit of Christmas is giving, and those in store retailers go to all their decorative trouble to stir those emotions of happiness, excitement and generosity for a strategic reason.
So why don't we ecommerce brands make the same effort?
Each year throngs of excited children and their families flock to their favourite department stores to soak up the Christmas atmosphere.
It's time you turned your online store into a must-visit pre Christmas destination.
We've got 4 design ideas to help you develop a genuinely beautiful Christmas shopping experience.
But that's not the only gift we're giving you this Christmas…
Your 5 weeks of ecommerce Christmas wisdom
There's four other neatly wrapped presents of ecommerce marketing advice waiting to be unwrapped and enjoyed.
Close your eyes if you don't want to ruin the surprise.
Here's a sneak peek of what the Gorilla Santa has already delivered to our fabulously well behaved email subscribers:
Gift 1 – Online Store Technology (if you missed it, catch up now)
Gift 2 – Promotion (if you missed it, catch up now)
Gift 4 – Content Marketing (if you missed it, catch up now)
Gift 5 – Customer Experience (if you missed it, catch up now)
To make sure you find any future gifts of ecommerce wisdom safely arrive at your inbox door, make sure you subscribe!
Now the formalities are out of the way, let's unwrap the ecommerce design wisdom and show you four ways to develop a must-see Christmas store display.
#1. Include A Festive Design Touch
You don't want to be that one guy in the street that refuses to put up any Christmas lights. Likewise, your online store can't be a Christmas curmudgeon amidst an online extravaganza of festive cheer.
The storied retail holiday displays of traditional retail gift-givers like John Lewis, Harrods, and David Jones create a genuine sense of joy and wonder for their giddy customers. A visit to the store becomes an annual Yuletide pilgrimage.
When you see the length's Macy's go to for their Christmas Parade, you start to understand there must be something in all this Christmas Shopping razamatazz. Below is a snapshot of the 2014 New York Parade.
We online retailers need to match these guys with our Christmas shopping experience. If you can find the same emotions within your customers, you'll have virtual queues of online shoppers visiting your ecommerce Christmas display with a twinkle in their eye and a smile in their hearts.
The sparks of joy you provide for your visitors rub off on your brand. You can show the personal, human side of your business – a difficult thing for an online retail to provide without a bricks and mortar presence.
At the least; decorate. Re-skin your site with festive cheer. Either coat the old-fashioned Christmas paraphernalia in your brand's colour palette, or deck the halls with boughs of holly. Don't bombard, but make an effort.
That's table stakes. Your customers expect an acknowledgement of the season.
If you want to get those warm and fuzzy feels happening, get that Christmas creativity flowing. Find a way to make your online shopping experience as good as a DJ's store window (Video and animation can be the best ways to generate these types of emotions).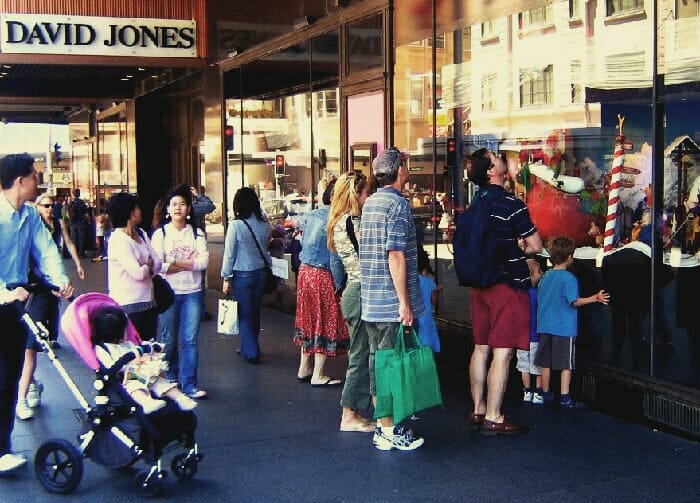 Nordstrom always win at online shopping Christmas. Your ecommerce store could do worse than shamelessly appropriating their festive marketing playbook.
You can see some of their best work from last season below – simple , stylish, special and helpful.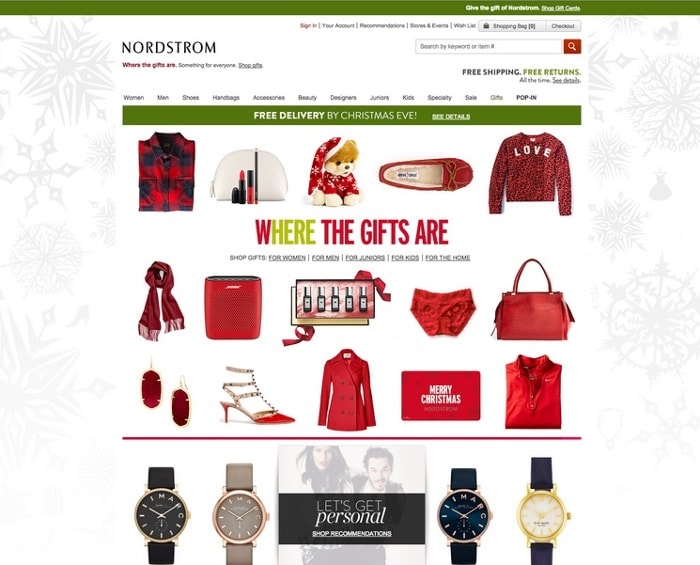 The subtle design changes suit the elegant style of the brand, while still getting visitors excited for Santa time. Leading with a beautiful Christmas themed gift shop call-to-action is practical and customer friendly.
Remember the critical difference in the mindset of the gift-shopper.
Those looking for Christmas presents don't really know what they want. Incorporate personalised suggestions and easy-to-search gift libraries into your user's shopping experience.
It doesn't stop there. Increasing conversion rates with a better shopping experience is great, but you need to maximise these efforts by bringing as many people as possible to your site.
A little further inspection shows that Nordstrom's entire marketing program is humming in unison each Christmas.
Each of their individual gift landing pages are perfectly optimised for related search engine queries, allowing the brand to attract even more potential customers to their festive online store display.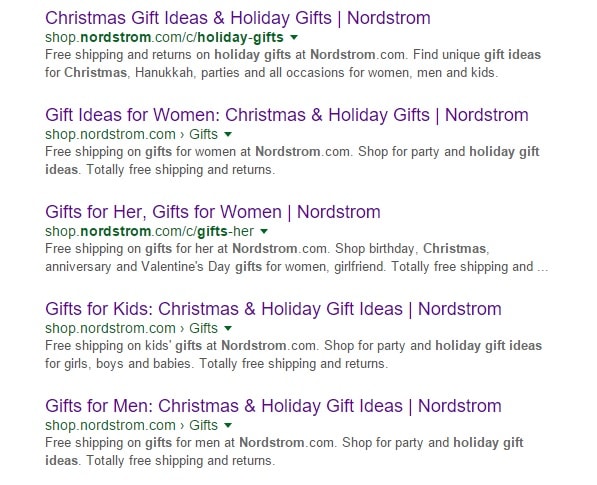 Work out how you can delight your customers, and use some festive design touches to generate a 'wow' moment from your Christmas shopping visitors.
#2. Add Some Christmas Cheer To Your Packaging
Everyone loves opening presents on Christmas Day. Don't be that brand with a boring brown box and a grayscale receipt.
Jazz it up. Decorate. Festively pimp your packaging out to make the grand opening experience an amazing surprise.
Tinsel, snowflakes, ribbons and bells. Even red and green colouring can lift the unboxing experience.
Whatever you do, whatever your budget, get into the holiday spirit and make your customer's Christmas gift memorable.
If you can, offer your gift-giving customers a couple of packaging options. This example from Net-A-Porter is exceedingly helpful.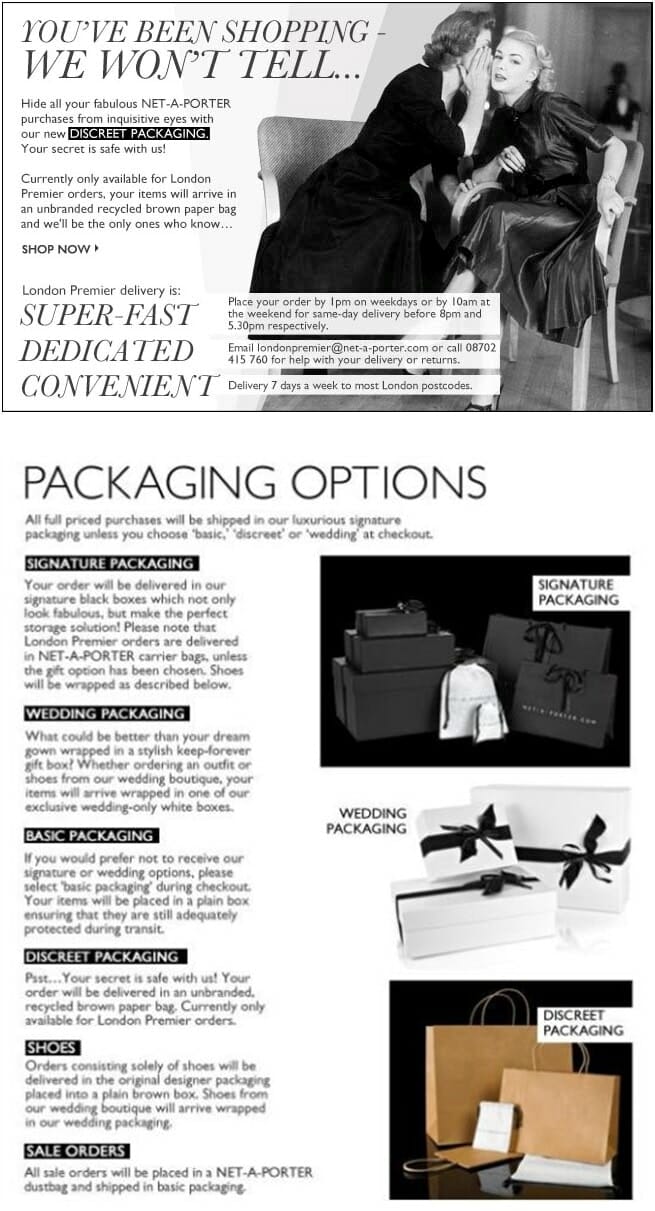 For those compulsive shoppers with particularly agreeable credit cards, a nondescript box won't alert any frugally minded watchers-on.
Even better, a plain brown paper wrapped box will give no clues to a gift recipient should they intercept their package between the mailman and the tree.
Luxury retailers might be able to afford the expense of offering a customisable packing experience – giving the buyer an opportunity to select the colour and style of the gift wrapping to be used.
Apart from warming their hearts, Christmas packaging will save your customer precious time. If you've done the wrapping for them, your customers don't have to unpack, discard and rewrap.
Your helpfulness will be duly noted. Repeat purchase will be your reward.
#3. Add some Christmas Cheer to your product images
Before you scream in exasperation – we get it… Product photos are a nightmare operation involving lots of time, money and meticulous effort.
It's true. But Christmas shoppers browse. Visuals are the most important element of your product pages, critically linked to conversion rates.
Shoppers aren't rational. We buy stuff based on our emotions and perceptions. The heart-melting Labrador you see in tissue commercials is not just the cameraman's dog. It may have nothing to do with the product, but it's there for a reason – to make you think without reason.
If you make your gift giver feel just right, if you stir up the right mix of heady Christmas cheer, your shopper is much more likely to become a customer.
Homewares brand, hayneedle, have raised the ecommerce bar when it comes to Christmas themed product images.
The images you see below are awe-inspiring, leaving any interior design enthusiast open-mouthed and watery-eyed.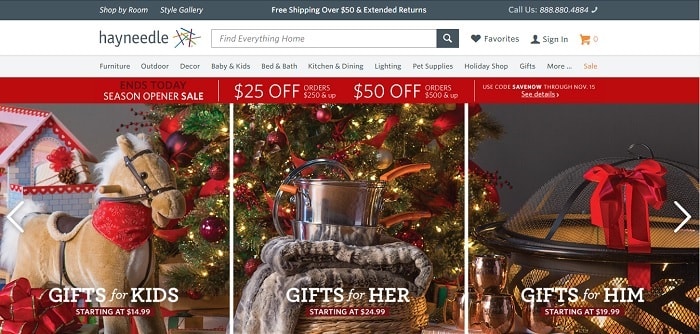 The bauble-ridden, light-strewn extravaganza is not beyond you. hayneedle has just set up one beautiful Christmas scene, then subbed in a bunch of different items one by one.
You can even set up a few different scenes with a unique style for each, then bundle up the featured products into a series of shoppable landing pages.
All of a sudden you've got yourself a an online showroom the likes of which IKEA would be more than happy with.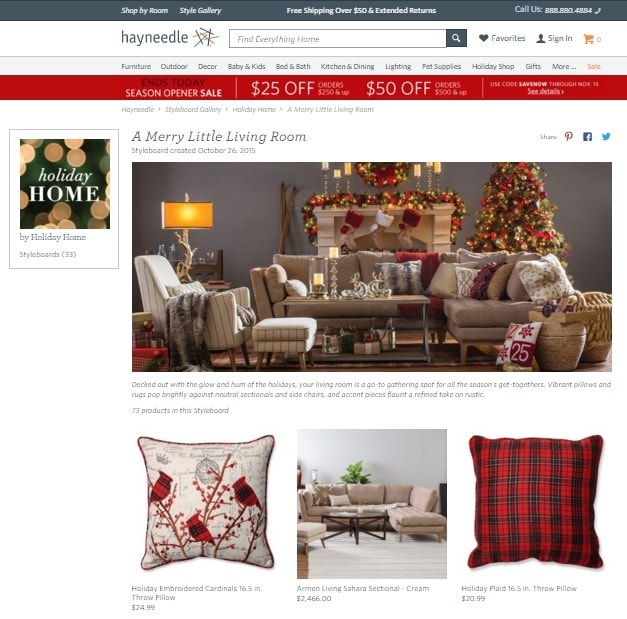 If you really want to excel yourself – prepare some helpful blog content along with your Christmas themed product shoot.
hayneedle could have prepared a series of articles on 'how to theme your Christmas table', 'everything you need to decorate your tree' or 'simple tips to DIY your Christmas decorations this year'.
Couple this entertaining content with a shoppable themed landing page and you've got yourself a much more helpful, relevant and interesting email to send to your subscribers.
If you've already sunk a ton of time and cash into perfecting your product images, just find a way to infuse some Christmas elements.
Take it easy if you go down this path. The last thing you want to do is bombard your stylish product images with clipart reindeers and wreaths.
You designer will be able to introduce some subtle red and green hues and overlay a little text to customise your existing hero shots for Christmas.
Furniture e-retailer Made, have beautifully styled, high quality product shots. It would be a waste to re-theme them all for two months of the year.
Instead, some tasteful, discreet text overlays are used to customise the image for Christmas shoppers.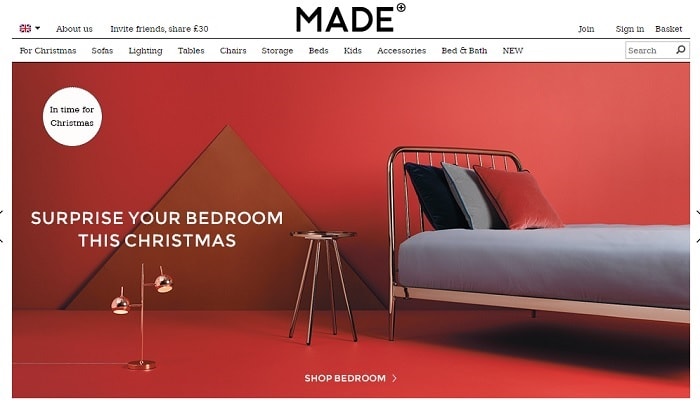 Some simple shipping information to assure customers of pre-Christmas delivery is really effective in establishing the trust needed for purchase. The one sentence call-to-action is customised for Christmas but generic enough to allow the template to be altered for other seasonal events in the future.
Remember, your online shoppers are conditioned to skim and browse visually.
Make the most of your product shots. A little extra effort will help you spark the Christmas-time emotions that trigger a gift purchase.
#4. Turn Your Site Search Into An Online Gift Finder
You'll have a stack of new customers coming to your site around Christmas time.
There's a good chance your new users will be looking for a gift, so you need to make it as easy as possible for them to get in and get out quickly.
Why not turn your search function into a 'gift finder'?
You don't need to add any extra fancy functionality – the general parametric search with multiple filters will do the trick. It's the positioning that makes a difference.
A boring old search button isn't what your new potential customers are looking for. But if you put a gift-finder button up in lights with prominence on your homepage, you can make a conversion a whole lot easier.
Your filter options like gender, size, colour, fabric etc. are the perfect tools to allow an unknown customer to personalise their experience and fast-track their purchasing journey.
Minimal effort for exponentially more user friendliness.
John Lewis understands the way their audience likes to shop. Some simple UX changes lift their Christmas browsing experience to a new level of customer friendliness.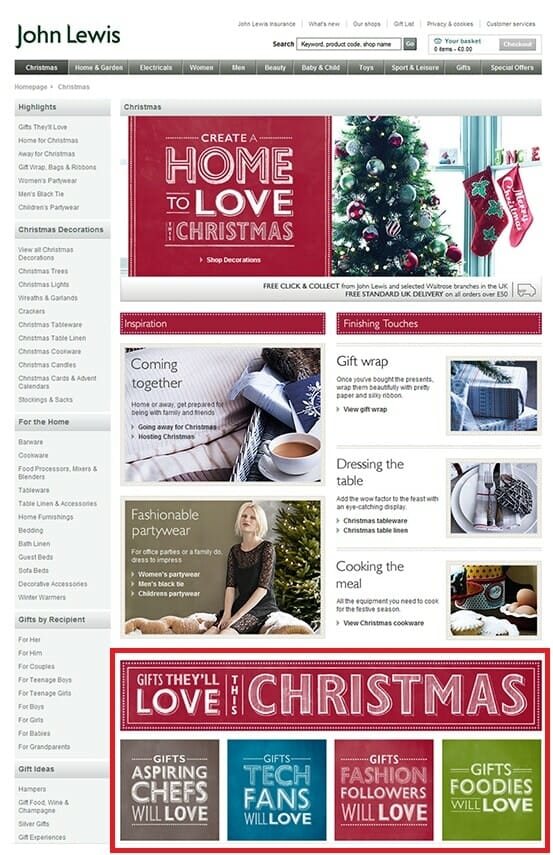 It probably makes sense that traditional bricks and mortar retailers do a better job in this department – they see how people like to browse in person everyday.
To get the best result for your ecommerce site, imagine your customer is walking into your online store looking for inspiration. Each element on your site needs to be configure with the same care and strategy that an offline retailer would use to position their store displays.
Physical stores need to be configured in a customer-friendly way. Our online stores should be the same. The theme-based gift shop concept is a sure Christmas ecommerce winner.
Next in your Ecommerce Christmas Gift Series – Content Marketing
We've still got two more gifts of online retail helpfulness left in our five edition series. Your next two instalments are the most important of the bunch.
Content marketing is all about establishing trust and developing loyalty by sending your subscribers helpful information instead of continually urging them to buy.
Our Christmas content marketing ideas will help you return your focus from your own sales figures to your customer's needs.
November-December gives you an annual chance to start a lifetime relationship with a whole stack of new visitors. we'll explain how to develop valuable content and turn your Christmas shoppers into loyal repeat customers.
Our next Christmas series article explains how to develop valuable content and turn your Christmas shoppers into loyal repeat customers. Check it out now;
5 content marketing ideas to turn your Christmas shoppers into loyal customers
And get started on those decorations!