Anyone taking bets on the marketing buzzword of the year?
Forget 'omnichannel' and 'digital disruption'. They're old news.
Whatever your odds – put me down for 'personalisation'.
I'm not sure I've received an eCommerce webinar invite in 2016 without this word in the title.
The personalised online shopping experience is fast becoming the eCommerce holy grail.
But are we getting a little too worked up about this whole thing? And how do you actually create a personalised experience without your brand coming off as a sleasy creep?
(Your roundup mini-directory)
Too busy to read the whole thing? We get it: logistics, synergies, KPI's – all that business stuff. Here's the skim read version. You really should read the whole article though…
You can click on the dot point that takes your fancy and head straight to the relevant section.
In this month's eCommerce roundup:
Has the personalisation craze reached its zenith?
I'm fairly sure, our industry excitement reached unprecedented levels of fascination in this mouth-filling six-syllable enigma.
Here's just a snapshot of the online avalanche of articles on the topic in the last month – I've plucked out a few of the most interesting for you.
Master personalization for email, SMS messages and landing pages

–

Ben Pippenger for Salesforce
Why is this happening?
Why now?
Why the explosion in pursuits of personalised customer experiences? Ecommerce has been around for over two decades. Why is this the year 'personalisation' finds itself in the title of every second keynote presentation at every second digital marketing conference?
We're pretty comfortable with Jan Vels Jensen's assertions in a recent piece he published for iMedia:
"Perhaps this is a result of a hyper-competitive marketplace or the millennial mindset, which places emphasis on brand values and collaborative business relationships.
Regardless, brands are realizing customer experience is quickly overtaking price as a major decision factor, which is forcing a dynamic shift in how companies communicate and engage with consumers."
Customers don't just care about price anymore.
Communicating value is table stakes.
The shopping experience is the new differentiator.
The Case for Extreme Personalisation
"Extreme personalization comes down to one simple reality: customers expect your company to know who they are — no matter what method or touchpoint they are using.

Instore, online, through Facebook or on a phone, customers want to receive a consistent, high-quality experience from your brand."
Elastic Path has developed an ebook devoted to the concept, with some persuasive insights for any eCommerce manager controlling a marketing budget.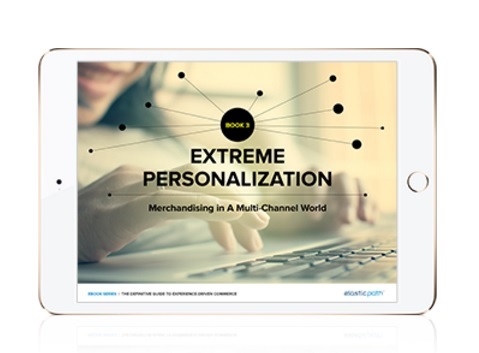 Elastic Path cites 'The Rewards of Extreme Personalization' as follows:
More trust and brand loyalty
The benefits of personalisation are significant and varied.
But effective execution comes with a complexity few articles or ebooks care to outline.
This stuff is hard. Few retailers are sorting it out. It costs lots of cash, time, effort and change.
Personalise to help – don't creep on your customers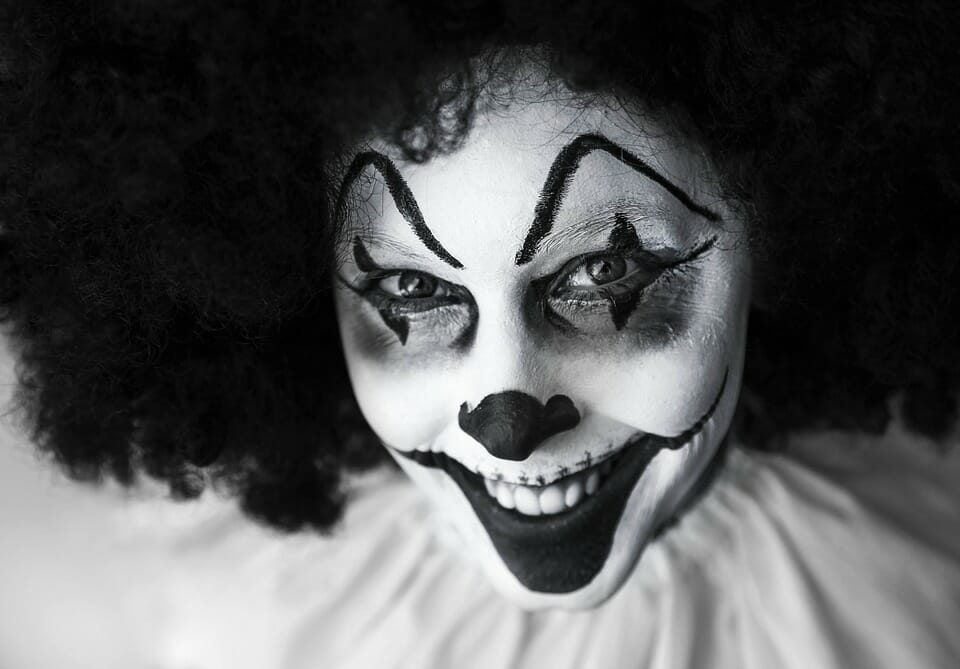 Segmentation is great, but a segment of one gets the best result for the customer.
Sure – personalisation is critical to future eCommerce success.
You want to craft an ideal experience for each and every customer.
To remain competitive in this era of the empowered consumer, brands should make personalisation the number one digital priority, according to Brendan Witcher, an analyst with Forrester Research, whose presentation analysed "How Data and Technology are Re-defining Personalization" at the 2016 SAP Hybris Summit.
"Personalization today is often driven by single data point segmentation, the transaction with the customer must be their information, in exchange for value.

The more you know about a customer, the better the personalization will be" Witcher said.
Alas, you cannot drop everything and refocus your marketing efforts on 'personalising' the entire shopping experience.
Conversion Xl's Alex Birkett agrees:
"Web personalization is all the rage, but are you trying to run before you've learned how to walk?

Don't trip and stumble in your drive to master shiny, new techniques – instead, learn what you need to get accomplished first, and what the pitfalls are if you don't.
You don't want your brand to seem like a stalkerish automated sales assistant.
Use personalisation to prove to your brand cares about improving your customer's experience.
Don't use it as a means to an end of more sales.
Profit will be your long term reward, but a better customer experience must be the goal driving your efforts.
5 online retailers making personalisation work
Witcher cited four eCommerce brands using personalisation to add genuine value to their customer's shopping experiences. Each of these retailers can help inform the development of your personalisation efforts:
Bed, Bath & Beyond are getting it too.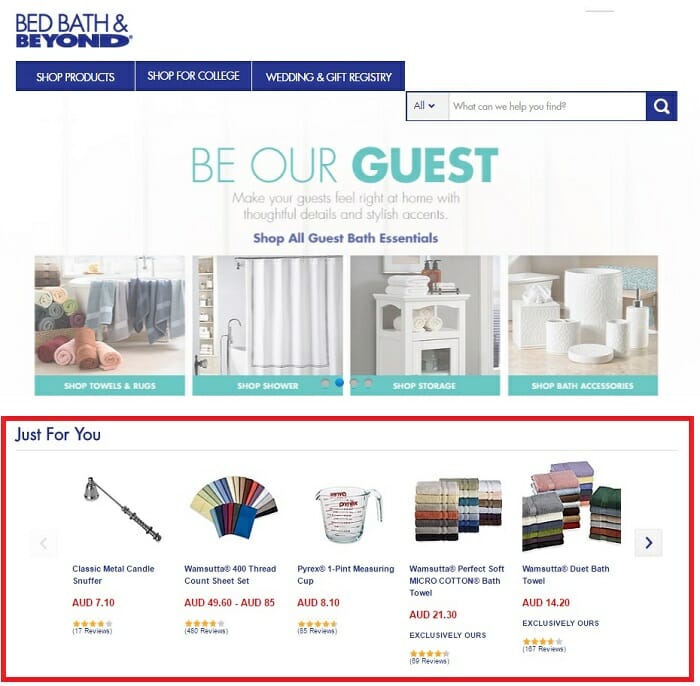 Internet Retailer reports CEO Steven Temares told analysts on the retailer's Q4 2015 earnings call that Bed Bath & Beyond are focusing on delivering personalised customer experiences to drive their brand's eCommerce growth.
"As consumer shopping preferences evolve, we remain focused on providing a consistently better and more personalized customer experience across all of our retail channels.

Our team will continue to leverage analytics in order to optimize our marketing strategies as we learn more about our customers and how they prefer to interact with us.

This will enable us to tailor our marketing communications and provide our customers with more personalized, timely and relevant information."
To translate this from analyst code speak:
Bed Bath & Beyond intend on making better use of their analytics and customer data to develop a content marketing program that can help improve the experience of each individual customer at the exact stage of their shopping journey. BB&B want to develop content assets that can substitute for a real, human customer service assistant – to help each shopper with their specific problem.
I don't know about those finance investor types, but this online retail strategy gets a big, hairy thumbs up from us Gorillas.
How to start incorporating personalisation into your online shopping experience
We've been banging on about developing content experiences to help your customer to the next stage of the customer journey for too long.
We've written three in-depth feature pieces about eCommerce personalisation, charting the development of the concept over the last 12 months:
If you're a regular reader, you're probably mid-eye-roll right now. Stay with me.
For those of you new to the eCommerce Jungle Gym tribe, let us briefly recap:
Pure, individualised personalisation is hard
It's expensive to execute, and it takes rich customer data to do it right
Amazon, and a few overachieving others, have this thing down
For the rest of us – we should edge towards this benchmark in increments
Before you think about personalising experiences – you need to have the right content assets developed to help your customers through each stage of the purchase journey
Then you can use your data analysis to start targeting your communications
Contextual clues can help you meet each customer with valuable, helpful content at their stage of the purchase process
Strands Retail provide targeted marketing and product recommendations software. This topic lands firmly in their ballpark.
They have just released a report dedicated to this eCommerce challenge titled "The Foundations of Personalization".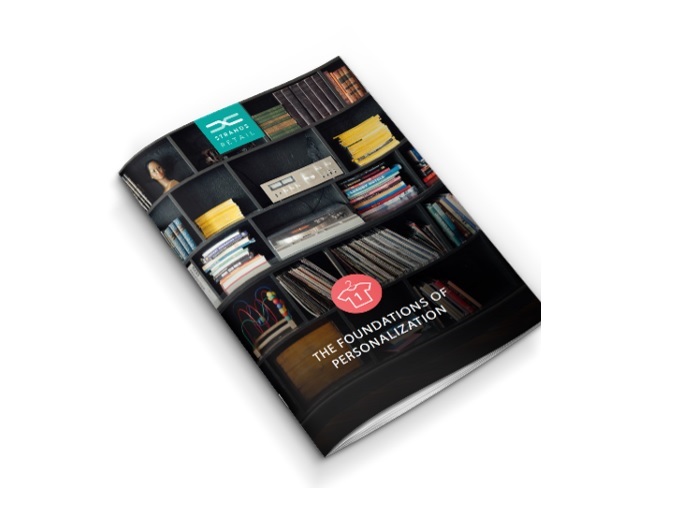 You can download a copy for more detailed insights on the importance of collecting and analysing the right data to produce and share the right content at the right time.
But I specifically want to share this little summary with you:
"Personalization should be interwoven at every stage of this funnel, with key messages presented to the customer along the journey.

Of course, more data about the customer is going to further empower the retailer to tailor and refine more specific messages.

Good personalization means reading and interpreting intent and behavior from site visitors for a more relevant experience."
The diagram below outlines seven key stages of the online retail buyer's journey. You should work on developing some form of content experience matched to each of these journey stages. Your content marketing program should be designed to help, educate or inform the customer – and to lure them to the next stage of the journey.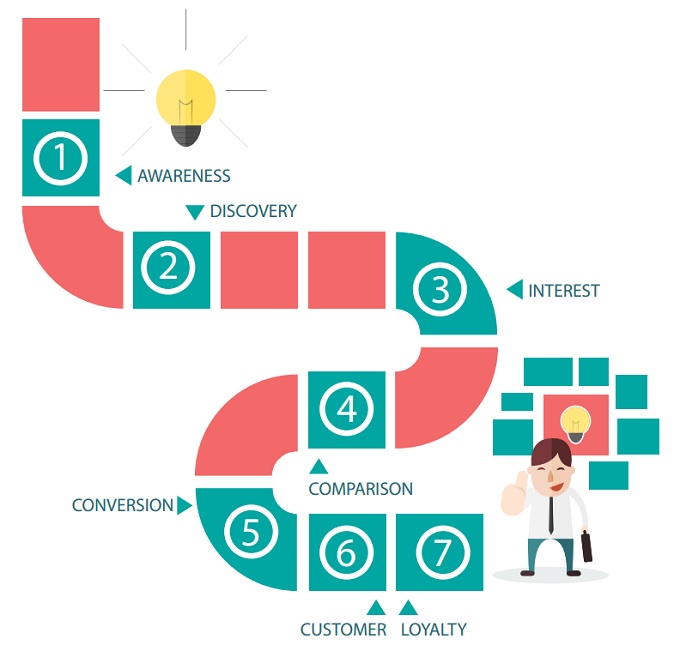 Of course, it's nowhere near that easy.

But this simple process will give you a good head start on your competitors that keep pumping out generic promotional email slop.
Not every buyer's progression will be the same. The fantasy of a perfectly measurable five stage journey is illustrated by Brandscaping author and fist-pumpingly exuberant speaker Andrew Davis in this sage reminder that marketing is still not an exact science.
Mapping up your buyer's ideal journey will help you develop a structured content creation process. You'll be able to start scheduling regular development of content targeted at helping subscribers at each stage. By segmenting your subscribers based on your analytics, you can deliver more relevant, personalised content marketing to each group.
But just remember, there are hundreds of thousands of journeys that your customers can take to get to that add-to-cart moment.
Don't get hunkered down in the detail.
Good ecommerce personalisation turns your brand into a corner store
Kunle Campbell, writing for business2communityexplains exactly what the concept of personalisation should mean to ecommerce brands using the analogy of his experiences holidaying in Bordeaux:
"We visited the local village artisan bakery on our very first morning…

Other than the slight grin of acknowledgment we received from the shopkeeper, it was a straight transaction. We selected our baguette and money exchanged hands.

Our second visit was different: we were asked where we resided and if we were from the UK, as our dodgy broken French easily gave us up. Our third and fourth visits were even better as we conversed about the weather and places to go sightseeing.

As we got to know each other some more over each visit, we got a more personalized experience. It was a somewhat social and at the same time a commercial experience."
This is what you should be trying to achieve.
Personalisation works best when you make the effort to get to know each and every one of your repeat customers – and use that knowledge to make each of their subsequent shopping experiences easier, friendlier – more personal!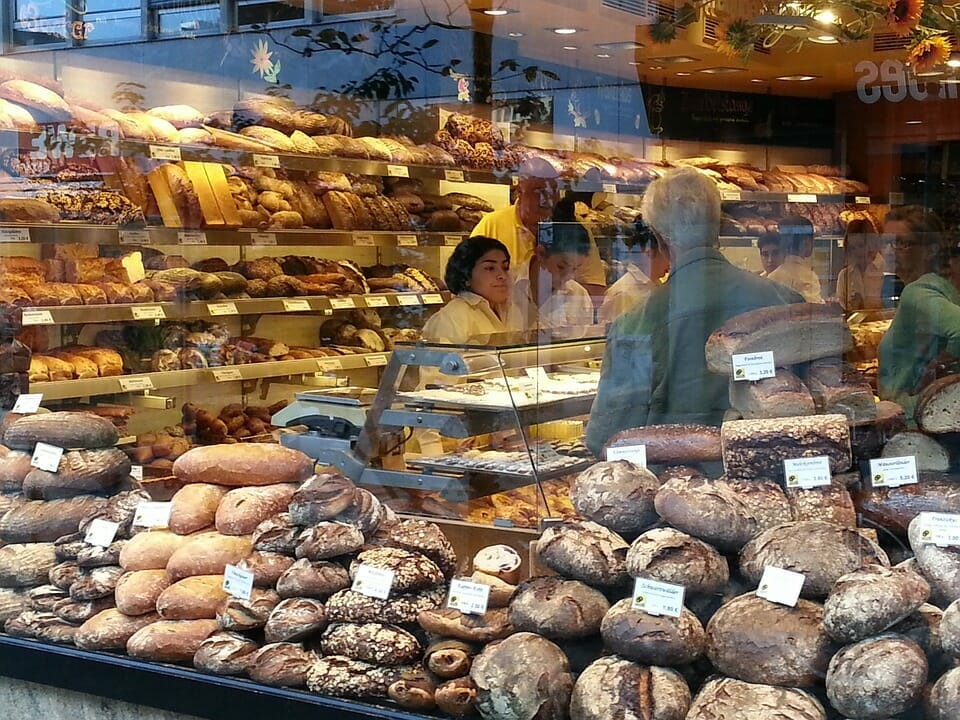 We're really just trying to find a way for our brand to develop the type of relationships that Mary and Ian have with their corner store butchery/bakery/deli customers.
If you can make your customers feel like a 'local', or a 'regular' – you're doing it right.
In the aforementioned Media Post article, Cory Treffiletti explains the dichotomy between the way digital marketing pro's consider personalisation and the way offline retailers have been doing it for centuries.
"A personalized experience offline — when you become a regular at a restaurant and the staff knows you and what you like — happens over time.

In digital media, we know so many things about you the first time you come into the experience, that it can come off as "creepy" to completely personalize things because we haven't built the relationship yet.

As marketers, we have to understand the implied consent and the element of time to build a relationship. If we don't respect the time required, then we come off as desperate — and that's no way to build a relationship."
This personalisation thing isn't a have or have-not scenario
You can start out small and build more personalised elements into your customer's experience as you grow. Jose Cebrian, VP of Email and Mobile Messaging for Merkle (writing for Marketing Land) produced this simple little graphic that illustrates the point.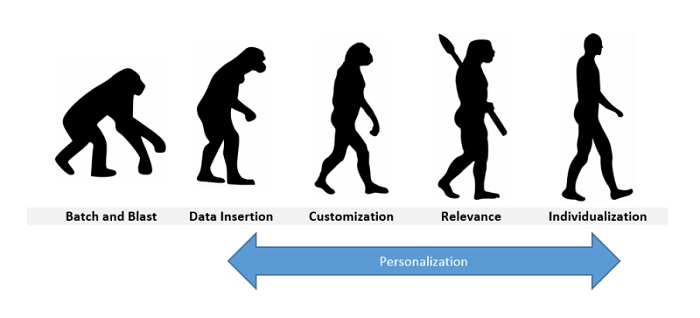 Oh, and don't just use personalisation for the sake of it. Add some value. You don't really need to spend an enormous slice of your budget on a logo that changes according to the voice of each and every customer. It's still pretty cool, I guess…
It's the small things that show customers you care
You don't have to reverse engineer each and every customer's experience to be a personalised theme park journey of unadulterated online shopping glee.
Don't get ahead of yourself.
Not every shopper needs an online concierge reading their mind and anticipating their every move.
A few little moments of unexpected helpfulness are all you need to show your individual customer you care.
Surprise and delight breed trust, loyalty and repeats sales.
Here's a couple of eCommerce examples from brands personalising one little aspect of the customer experience:
Airline food is more often a punchline than a customer-friendly experience. Singapore Airlines' new 'Book the Cook' program manages to lift the in flight experience above expecations.
First, business and premium-economy passengers can now personalise their inflight menu – with an option to select their desired meal before they travel.
This simple ecommerce feature allows Singapore to customise their passenger's experience. It's just one aspect of an enourmous service – but it shows that Singapore Airlines is going the extra mile to help their customers.
TrunkClub, a premium menswear subscription service includes hand written notes from personal stylists explaining their selection of products with all orders.
You have absolutely no excuse for this one. I know you are all literate.
If you can run a marketing program for an online retailer, you can write/type a personalised note to high value customers.
And here's a couple of ecommerce brands at the far right end of the personalised customer experience spectrum. These two giants of the the online checkout have budgets, software and algorithms most of us can only dream of – but each personalised feature you develop gets you one stage closer to a truly indivualised customer experience.
The broadcast media disruptors have turned media consumption on it's head. As Frank Underwood advises (star of their flagship House of Cards program) 'if you don't like the way the table is set, turn over the table'.
Such is Netflix.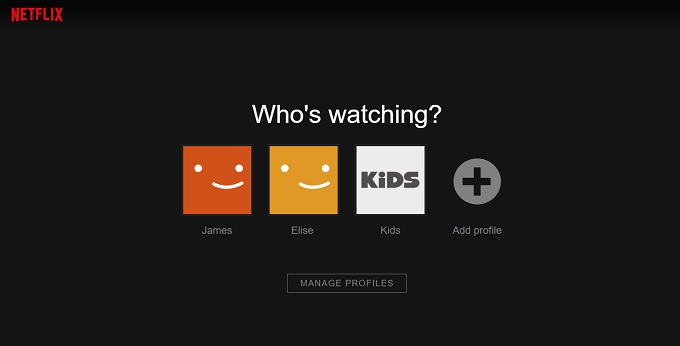 Their personalised email marketing is now a thing of online marketing lore. Email software provider Emma, recently produced a brilliant case study profiling some of their most innovative design work – but their use of customer data to send hyper-targeted suggestions is what allowed them to turn over that TV table.
This article titled "Netflix's content marketing has changed TV advertising forever" is a detailed case study on the successful use of ecommerce personalisation that any online retail pro will appreciate.
I'm sorry, you knew it was coming, but I had to include it.
Enough said.
A Bonus Personalisation Podcast
The Downside of Ecommerce Personlisation – Discrimination on AirBnb
Ecommerce personalisation is not all happy customers and bulging profits.
You need to be aware your innovations can have some unintended consequences.
The fantastic NPR Hidden Brain podcast explores how discrimination plays out on AirBnB.
Michael Luca, a faculty member at Harvard Business School, and a few of his colleagues were interested in how the lack of anonymity on platforms like Airbnb might be resulting in discrimination. To find out, they ran an experiment.
"We sent out 6,400 requests to stay with people, and we kept every request the same. The only thing that was different about the requests – the profiles attached to them either had African-American-sounding names or white-sounding names.

We could see that there was a very different response rate and acceptance rate for African-American guests relative to white guests. Having an African-American name leads to roughly a 15 percent lower chance of being accepted as a guest on Airbnb relative to having a distinctively white name, holding all else constant."
The issue at the heart of this case study is unique to the sharing economy, however similar challenges can spring out from any ecommerce innovation.
You can't let the worst case scenraio paralyse your decision making – but you must consider any forseeable risks and do your best to mitigate any negatives.
When we place our online customers at the helm of our ecommerce joystick, almost anything can happen.
The internet has taught online retailers that anonymity is both beast and blessing. Try as you might, you just cannot replicate an in-person customer service assistant, so problems can and will happen.
It's how you deal with it that separates a loyal customer from a public relations disaster.
Remember to subscribe to our new weekly package of ecommerce learning
One email.
Once a week.
All the weekly ecommerce insights you need – in one neatly wrapped package, delivered straight to your inbox door.
Inside, you'll find:
A new, innovative online retailer to watch in 2016
An influential online retail marketing professional to follow on social media
Three of the most important and interesting ecommerce articles from around the online jungle
Catch up on last week's edition to see what you're missing out on
Keep your online retail knowledge on point, and subscribe right now.